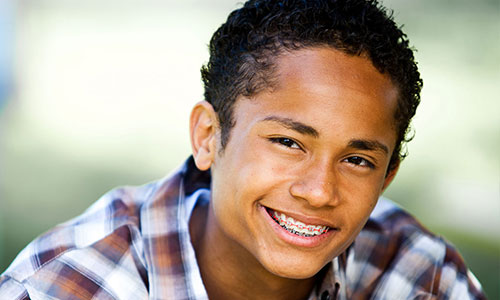 Pediatric Orthodontist Carson, CA
Our expert orthodontist, Dr. Hamid Barkhordar, knows just how to create a beautiful smile that your child will have confidence in for years to come. We offer many pediatric orthodontic treatments that are specialized to handle your child's unique requirements. Our welcoming staff is highly trained in working with patients of all ages and we are excited to provide you and your little one the highest quality orthodontic care!
Metal Braces
Traditional metal braces provide an efficient and trusted option for straightening your child's teeth and correcting their alignment. Our metal braces are crafted with USA-made titanium, so you can be confident they'll be durable and strong.
During your child's complimentary braces consultation, we will begin by taking x-rays which will allow us to develop a customized treatment plan suited specifically for your child. Our experienced orthodontist, Dr. Hamid Barkhordar, will then prep the teeth for the braces and the dental brackets will be securely placed. Your child will also get to choose the color of their brackets from a wide variety of options. Throughout the straightening process, we'll have you bring your child to the office periodically to ensure the teeth are moving properly and the braces continue to fit comfortably.
Traditional metal braces are ideal for correcting even severe cases of misalignment and teeth overcrowding. Metal braces are also the most cost-effective and efficient way to give your child a smile they'll love to grow up with.
Invisalign®
Invisalign® clear braces provide an excellent teeth straightening option for kids who want a beautiful smile, without the look of metal wires. Our clear teeth straightening trays are custom-created for a secure fit, and will gently shift your child's teeth into their proper place over time.
The Invisalign® process begins with a visit to our office where you and your kid will have a consultation with our orthodontist. He'll work with both you and your child to develop a specialized treatment plan, and we'll also take x-rays and dental impressions.
Your child's personalized Invisalign® trays will then be custom made. Throughout your child's treatment, we'll ask you to bring your child to our office every few weeks to assess their progress and give them their next Invisalign® tray.
Invisalign® is a contemporary and innovative option for straightening your kid's teeth while still keeping their smile looking natural. The Invisalign® trays are easy to remove so your child can still eat their favorite foods and keep their dental hygiene routines the same. Invisalign® braces are a great option for kids who need more moderate straightening and would feel self-conscious with metal braces.
Retainers
An orthodontic retainer is an important last step to keep your child's smile straight and beautiful. Our custom retainers are made to comfortably hold your child's newly straightened teeth in place, so your kid can grow up with a smile they'll be proud of.
Our professionally made retainers are created from long-lasting and durable materials, so you don't have to worry about your little one accidentally breaking it. Once your child's retainer has been made, Dr. Barkhordar will ensure the fit is perfect and will go over how to wear and take care of the retainer with your child. We will also want to see your child periodically to make sure their smile is staying beautifully straight.
We know that your child's style is unique and important to them, which is why our orthodontic retainers come in a large variety of colors and patterns they can choose from. A customized and cost-effective retainer is completely removable and easy to use, so your child can still practice proper dental hygiene and eat, speak and smile with confidence!
Find Out More About Our Pediatric Orthodontic Treatment Today!
(310) 961-2927
101 W. Carson St. Suite B
Carson, CA 90745
Office Hours
Monday - Friday: 9am - 6pm
Saturday: By Appoinment
Closed Sundays
101 W. Carson St. Suite B
Carson, CA 90745
Office Hours
Monday - Friday: 9am - 6pm
Saturday: By Appoinment
Closed Sundays